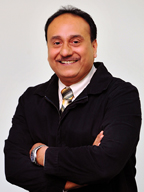 Dr. Nayan KANWAL
Universiti Putra Malaysia (UPM)
Keynote Title: Will be Announce…
Bio:
 Nayan Kanwal was born in India in 1958. He accompanied his parents to East Africa in 1969 where his father worked for United Nations as a Chief Technical Adviser. Nayan completed his primary education in Kenya, East Africa and returned to Delhi Public School (one of the country's prominent schools) New Delhi, India to continue his secondary education.
He obtained his Bachelor's degree in Agriculture in 1982 from the University of Papua New Guinea/ Queensland University, Australia, and Masters of Agriculture in 1985 also from the same university. He then continued to work at the university as a research associate for a year after which he left to go freelance in 1987.
In 1988, he went to Singapore to undertake studies in Information Technology (Computer Science) at the Stamford College affiliated to NCC, UK and obtained his NCC diploma in Computer studies in 1990. Whilst in Singapore, he was offered to work as an Editor with a prominent publishing house from 1990 for five years, where he was responsible for publication of various books, scientific journals and newsletters including the weekly bulletin of Rotary International, Singapore. In 1995, he was invited to become the publishing Director of a well-known British publishing house, Ashton-Brooke (Asia) Publishing (a private limited company set up with the support of Economic Development Board, Singapore) where he was in-charge of the editorial development of the company.
Nayan's push for higher education brought him to Malaysia in 1997 to pursue his doctorate in the field of urban landscaping at Universiti Putra Malaysia (UPM). In 2001, he was awarded a scholarship by the French government to undertake a professional scientific training in Simulation and Visualisation of Landscapes in France. He obtained his Ph.D in 2005.
Alongside this he has been working as a Research & Development Officer for almost 7 years before being offered to succeed as a Managing Editor with the Research Management Centre at UPM. In recognition of his distinctive services, Nayan was honoured with an Award of Distinction — Staff Excellence Award by RMC, Universiti Putra Malaysia, for 10 consecutive years; 2003, 2004, 2005 & from 2007 to 1014. He was elected committee member for the Harnessing Research for Industry Advantage exhibition held at UPM in 1997. Nayan is the Co-Editor of the University's 1st Directory of Products, Services and Expertise published by the University in 1997, and Editor-in-Chief of the second revised edition of UPM Research Directory that is published in 2005 in two parts. He has also been the Project Editor for several consecutive University Putra Malaysia's Research Reports from 1996 to 2006. He is the Founder and the Managing Editor of Universiti Putra Malaysia's first and only R&D Digest, Synthesis. In addition, he is the Editor-in-Chief of several books on research at UPM.
In recognition of his distinctive services and exemplary work at UPM, Dr Nayan was led to his current position as the Chief Executive Editor, Pertanika Journals, Universiti Putra Malaysia with effect from 1 January 2007.
During his academic and professional career, he has published several articles in various publications and chapters in books. In addition, he is the author and co-author of several books in the field of research and development. Although he has an Agricultural background, he has been engaged in a very wide range of subject matter from management and administration of research to Information technology. He has to his advantage almost 30 years professional experience primarily in Communications, Media, Print Design with a strong Publishing background, and extensive experience in R&D Management and Administration.
Nayan has widely travelled around the world and had a privilege to travel to more than 35 countries around the globe. He is a Fellow of the Royal Society of Arts (FRSA), United Kingdom, a Life Member of the British Institute of Management (BIM), United Kingdom, an Associate Member of Marketing Institute of Singapore (AMIS), and an Associate Member of Australian Institute of Agricultural Science and Technology (AIAST).
---
Prof. Dr. Atilla CAVKAYTAR
Anadolu University, Faculty of Education
Department of Special Education
Konu: "Zihin Yetersizliği Olan Bireyleri  Bağımsız Yaşama Hazırlama: Aile Eğitimi-Okul Eğitimi-İstihdam"
Keynote Title: "Preparing to Independent Life of People with Intellectual Disability: Family-School-Employment"
Biyografi: 
Prof. Dr. Atilla CAVKAYTAR 1963 yılında Kütahya'da doğdu. 1987 yılında Anadolu Üniversitesi Eğitim Fakültesi Özel Eğitim Bölümünü bitiren Cavkaytar, 1988-2003 yılları arasında zihin engelliler öğretmenliği yaptı. zihin engellilerin eğitimi alanında 1990 yılında Yüksek Lisans, 1998 yılında doktora eğitimini yine Anadolu Üniversitesinde Özel Eğitim alanında tamamladı. Cavkaytar, 1999 yılında yardımcı doçent, 2008 yılında doçent, 2013 yılında profesör oldu. Öğretim üyeliğinin yanı sıra Eğitim Fakültesi Dekan Yardımcılığı, Eğitim Bilimleri Enstitüsü Müdür Yardımcılığı, üniversitenin Akademik Gelişim Birimi Müdürlüğü, Bölüm Başkanlığı ve Anabilim Dalı Başkanlığı gibi yönetim görevleri de yapmış olan Cavkaytar gelişimsel yetersizliği olan çocukların ailelerinin eğitimi, zihin yetersizliği olan bireylerin mesleki eğitimi ve yetişkinlik dönemi konularında  çalışmalar yapmaktadır. Dr. Cavkaytar 2017 yılında Türkiye Halk Sağlığı Onur Ödülü ve Anadolu Üniversitesi 2017 yılı Sosyal Bilimler Ödülü almıştır.
Bio: Professor Dr. Atilla CAVKAYTAR WAS Born in 1963. Cavkaytar was graduated from Anadolu University Faculty of Education Special Education Department as a special education teacher in 1987. He worked as a special education teacher for students with intellectual disabilities. He got his master's degree in 1990, doctorate degree in 1998 in Anadolu University, Turkey. He completed his special education career at Anadolu University. Cavkaytar was an assistant professor between 1999-2008. He got his associate professorship in 2008 and became professor in 2013. In addition to his teaching membership, he is also vice dean of the Faculty of Education, Vice Director of Graduate School or Educational Sciences, Academic Development Unit of the University Administrative duties such as Directorate, department chair on teacher training program for children with developmental disabilities. Dr. Cavkaytar working on family education, parent training programs, vocational education and adulthood of people with intellectual disabilities. Dr. Cavkaytar got Turkish Public Health Prize and Anadolu Universitesi Social Science Prize in 2017.