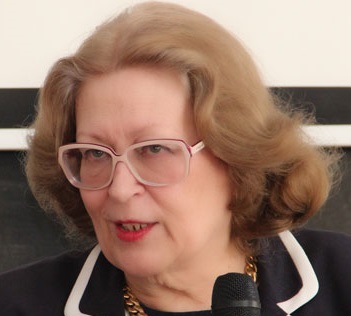 Prof. Dr. Krisztina KÁROLY
Eötvös Loránd University
Editor-in-Chief, Across Languages and Cultures (SSCI)
Keynote Title: New advances in researching discourse strategies in foreign language text production: the case of original and translated texts
Seminar: "Journal Across Languages and Cultures"
Bio: Krisztina KÁROLY is professor linguistics at the School of English and American Studies of Eötvös Loránd University, Budapest, Hungary. She holds a PhD and a habilitation degree in English linguistics as well as a "Doctor of the Academy" (DSc) title awarded by the Hungarian Academy of Sciences. She is the head of the Department of Language Pedagogy of the School of English and American Studies and head of the Language Pedagogy PhD Programme of the University. She is currently also working as the vice dean responsible for international affairs of the Faculty of Humanities of Eötvös Loránd University. She is member of the Applied Linguistics Working Committee of the Hungarian Academy of Sciences. Her research interests involve various fields of discourse analysis and translation studies (e.g., FL writing pedagogy, English for academic purposes, discourse competence, discourse level translation strategies, news translation). She has been involved in a number of national and international research projects in these fields and has published her work extensively. Her latest book entitled Aspects of Cohesion and Coherence in Translation: the Case of Hungarian-English News Translation was published by John Benjamins Publishing Company in 2018. She is managing editor of Across Languages and Cultures – A Multidisciplinary Journal for Translation and Interpreting Studies, and a member of the Advisory Board of the Benjamins Translation Library series (published by John Benjamins).
Abstract: This talk focuses on discourse strategies and particular aspects of the development of discourse competence in foreign language (FL) teaching. It reviews achievements of applied text linguistics that enable a deeper understanding of two important, but by nature different kinds of discourse production, namely original and translational FL text production. While abundant research is available on specific aspects of cohesion and coherence (e.g., reference, thematic structure, logical structure) investigated independently of each other (i.e., in isolation), we know very little about how these interact with each other as coherent texts unfold in intercultural communication and translation. This talk intends to bridge this gap by offering theoretical and methodological means to see discourse production in its complexity and to be able to answer some of the (yet unanswered) basic questions related to the creation of coherent FL texts and translations. It proposes a complex analytical model that is capable of revealing the components of coherence identifiable (and thus objectively describable) in discourse structure and exploring the writing/translation strategies that (re)produce the cohesive, rhetorical and generic structures of discourse. The discourse level strategies will be illustrated using a corpus of Hungarian original (source) news texts and their English translations. The talk will end by highlighting future avenues of research in discourse analysis, genre analysis, writing pedagogy and translation studies, and by discussing the possible applications of the findings in FL writing pedagogy and translator training.
---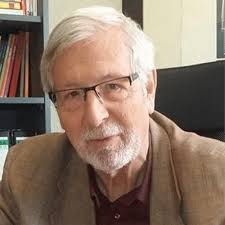 Prof. Dr. Miguel ZAPATA- ROS
Honnorory Professor at Universitat
Mirce, Spain
Keynote Title: Will be announce…
---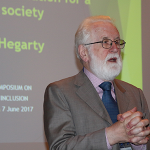 Prof. Dr. Seamus HEGARTY
University of Warwick, UK
Keynote Title: "Beyond Inclusion: Salamanca 25 years on…"
Bio: Seamus Hegarty is a visiting professor at the University of Warwick. He served as Director of the National Foundation for Educational Research for twelve years until his retirement in 2005. He served as Chair of the International Association for the Evaluation of Educational Achievement (IEA) from 2005-12. He has written and co-authored more than 20 books plus numerous reports and papers. He has edited the European Journal of Special Needs Education since founding it 34 years ago. He edited Educational Research for 21 years and has served on editorial/advisory panels for numerous other international journals. He has advised UNESCO and other international bodies on special needs issues for over 30 years. He prepared briefing papers and was Principal Academic Adviser for the Salamanca World Conference in 1994. He was appointed to the National Council for Special Education in Ireland, a statutory body, where he held the portfolio for research and dissemination (2007-2012). He is a member of the Learning Indicators Task Force of the Global Alliance to Monitor Learning (GAML) which is tasked with resolving the technical measurement issues surrounding Sustainable Development Goal 4.1. He chaired the Working Standards Group within the Learning Metrics Task Force under the aegis of Brookings and UIS. He was a member of the Advisory Board for the Assessment and Teaching of 21st Century Skills project launched by Cisco, Intel and Microsoft. Seamus has been awarded honorary doctorates by the universities of London, Oxford Brookes and York. He is a Doctor honoris causa of the Vrije Universiteit Brussel and a Fellow of the College of Preceptors. He is a Chartered Member of the British Psychological Society. In 2011 he was elected as Fellow of the Academy of Social Sciences.
Abstract: In 1994 the Salamanca Declaration gave a powerful boost to inclusive education. Governments (92) and NGOs endorsed the principle of inclusive education and agreed a Framework for Action designed to ensure that all children attended neighbourhood schools alongside peers. Many subsequent documents reinforced this movement toward inclusion, among them the United Nations Convention on the Rights of Persons with Disabilities (2006) and the Sustainable Development Goals (2015).
Have we achieved the aspirations of Salamanca? Actually, No! There has indeed been progress but not nearly enough. In 2017 UNESCO reported 262 million children and youth as out of school in 2015; of these 61 million were of primary school age. In addition, many children who were nominally in school were not receiving an effective education; their number is unknown but it is estimated to be at least 300 million. Children with disabilities – and, in some countries, girls – are disproportionately represented among those whose right to education is not being met.
25 years on seems a good time to take stock and see how we can do better nationally and internationally. The presentation will consider four areas:
The concept of inclusion. Inclusion needs to be problematised: our discourse is shaped in terms of an often-unexamined notion of inclusion which may well be a barrier to progress.
Purpose of schooling. Educational aspirations for all children must be viewed within the overall purpose of schooling. This is complicated, however, by the reality that schools have not changed nearly as much as the societies in which they are embedded.
What works. There is a lot of good practice to learn from. This can guide advocacy, policy and implementation.
Data gathering. Practice needs to be constantly monitored both to identify shortcomings and to support continuous improvement.
---
Title:New advances in researching discourse strategies in foreign language text production: the case of original and translated texts

Assoc. Prof. Dr. Selma Elyıldırım
Gazi University, Turkey
Keynote Title: "The locative alternation in English: A time reaction study"