10th WORLD CONFERENCE on DESIGN and ARTS

(WCDA-2021)



ONLINE and FACE-TO-FACE
ARUCAD University
Kyrenia, Cyprus
10 – 12 November 2021
DUE DATE FOR ABSTRACTS SUBMISSIONS: November 08, 2021

You may publish your article on a journal indexed by ERIC, Scopus or Web of Science (ESCI) following a review process and by paying an additional registration fee. For more information…
Selected papers will be published in Supporting or other Journals:

Clarivate Analytics Web of Science

 (

SSCI and

ESCI

)or SCOPUS.
The selected papers will be published as special issue of "Global Journal of Arts Education (gjae.eu)" (In review of Web of Science and Scopus). Turkish full text will be evaluated for "International Journal of New Trends in Social Sciences (IJ-SS) (www.ij-ss.eu)" publication in the journal.
The Remain accepted full papers will be published as proceedings "New Trends and Issues Proceedings on Humanities and Social Sciences" (

indexed in Web of Science

) and also submitted toSCOPUS and 

Clarivate Analytics Conference Proceedings

Citation Index – CPCI (ISI Web of Science)

 for evaluation for inclusion in the list. For more information please click here…
In addition, distinguished keynote speakers who are internationally renowned in the field will be giving presentations at the conference.
Abstracts and full papers must be English Language. If you would like you should present your paper Arabic language. So, you must send to an email message to wcda.secretariat@gmail.com. Your request will be added the program.
All proposals will be subjected to peer-reviews.
Online Participation Opportunities
Best paper and Poster Awards
Participation certificate
Coffee Breaks
Entrance to all workshops
Online Abstract Book
Dr. Ödül Işıtman, Middle Technical University, Turkey
Program Chair
Start here to submit a abstract to this conference
STEP ONE OF THE SUBMISSION PROCESS
---
2nd World Conference on Design and Arts – 2013
09 – 12 May 2013 – Bucharest – Romania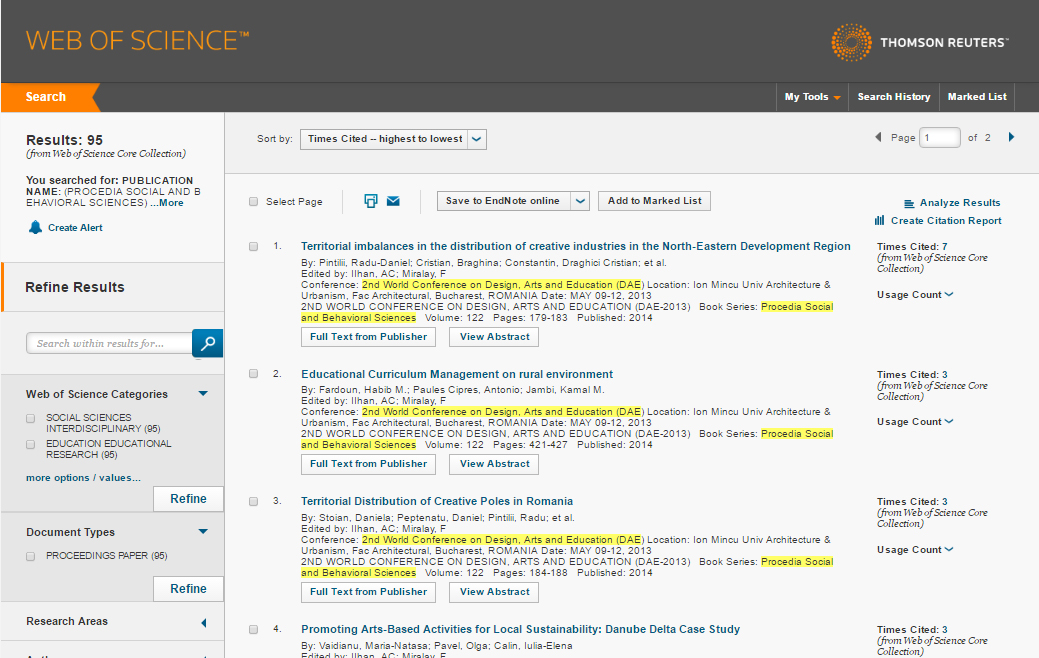 World Conference on Design and Arts – 2013
01 – 04 May 2012 – Antalya – Turkey